Fox gifts are not your average Valentine's gift or Christmas gift. Foxes speak to our souls, and for those who love them, fox collections are a thing. I personally have over 50 items in my fox collection and multiple fox gifts from this list.
It's the little things in life that make us happy and when I get something related to foxes, I'm absolutely overjoyed! This is why I decided this collection has to be put together.
So if you are a fox enthusiast, and you are looking for things to add to your collection, you have come to the right place! Get you a hot beverage in your favorite fox mug, and read on.
Our Top Picks for Fox Gifts
These are my top picks for fox gifts. These items will hit the spot for anyone who loves foxes. You can be stylish with the "I just really love foxes ok?" shirt, or you can sleep in comfort, with my favorite fox bedding. You really can't go wrong with these amazing fox items.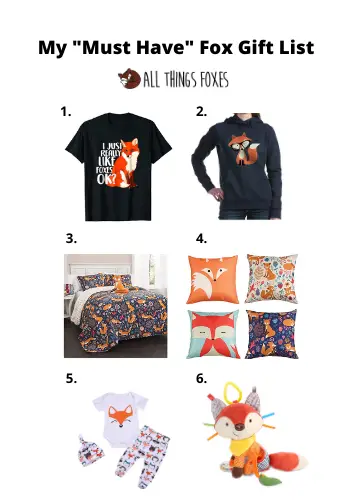 Believe it or not, babies and young children also find joy in foxes! Even if you just want to add a little cuteness to your children's style, you can do so with these awesome outfits, and this multi-sensory rattle and teething ring toy.
Fox Blankets
Nothing is more relaxing than a good book and my favorite fox blanket. On a cold night, these blankets, shaws, and throws can make it so much more comfortable. Pair that with a warm drink, and you have a special moment. Fox blankets can be special items for children or just a special item for you.
More Blankets
Almost every room in my home has at least one fox item, whether it be a blanket, a throw, or pillows to match! Wrap yourself in foxes, take a long nap, and enjoy life to the fullest.
Jewelry and Trinkets
I LOVE fox jewelry. I have a fox ring, and I wear it just about every day. Trinkets can also be a fun way to show your excitement for foxes. I remember the first time I put together a charm bracelet for my first girlfriend. It wasn't complete until I added the final item, a fox charm!
More Fox Jewelry and Trinkets
You can find something special for Valentine's Day, or Christmas, or a birthday, or any day! Fox jewelry lets your fox lover know that you know how much foxes mean to them. It's even better when both of you enjoy foxes 😊
Kitchen Items
If you love to cook or decorate your kitchen, then these fox gift items for the kitchen are a MUST-HAVE. Making cookies, how about making them in fox shapes! From measuring cups to food bowls and teapots. Foxes can spice up your kitchen design style.
More Fox Kitchen Gifts
I love making cookies, and even more, I love eating them! Another favorite of mine is tea, and nothing is as cool as a fox teapot. Make that calming cup of tea, while toting fox teacups and fox-shaped cookies.
Fox Mugs and Containers
If you drink tea or coffee, then a good fox mug is probably already part of your collection. However, if you are like me, you just can't get enough of them! Add to your collection with these awesome fox coffee mugs, wine glasses, and more.
More Fox Cups
Wine Glass Set of 4 Infoxicated
Fox Coffee Cup with Cellphone Holder Lid
My favorite wine glass is my "infoxicated" wine glass. It's part of a set of wine glasses, and it makes any collection stand out. I just love when I can make any part of my day foxier.
Fox Planters and Pots
Do you love plants and foxes? Well, it's your lucky day! Here are my favorite fox planters and pots. Each of these has awesome designs and holds up well to planting and the outdoors. I love having fox planters on my porch. They are super cute, and they make any plant look awesome.
More Fox Planters
Add that special foxy touch with a fox planter or pot. My collection has literally spilled from a small shelf, out to my porch, backyard, and window seals.
Wearable Foxes
Love foxes as much as we do? Then you might as well wear them around with you as well. From fox coin purses to cellphone covers and tote bags. You can bring foxes with you anywhere that you travel. A love for foxes can be contagious even! I have people asking me all of the time where I got my fox phone case from.
More Fox Wearables
Some of us wear or foxes on our sleeves, others clip them to their hair and wear them on their shoes! These make the perfect fox gifts.
Fox Stickers
The great thing about fox stickers is that they can be slapped on just about anything. I love scrapbooking and writing letters. I think I put a fox sticker on anything that I do with paper. You can put a fox sticker on your laptop, on your car window, or any place that you want to show your fox love.
More Fox Stickers
Kids and adults love stickers, and fox stickers are the coolest. They make great gifts and they can be used in a variety of ways. Why not add some of these awesome fox stickers to your collection?
Clothing
Everyone loves to get clothing. Fox clothing brings out your foxy style and shows the world how much you care about foxes. Fox shirts, fox socks, even fox dresses! This small collection of fox clothing will have you looking your foxy best.
More Fox Clothing
Fox Scarf Multiple Color Options
I have multiple fox shirts and every time I get a new one, it makes me so happy. I just recently got a pair of fox socks, and I've gotten so many compliments. It's crazy how many other people also love these gorgeous animals.
Fox Gifts Misc
There are just so many cool fox items out there. Here are some misc fox items that you may want to add to your collection. These all bring a smile to my face. I may be going overboard with foxes, but at least it's a super cute obsession.
More Misc Fox Gifts
Fox Come in and Cozy Up Doormat
Drinking Fox Wine Bottle Holder
We are fox lovers, and we know what we like. Chances are if you are anything like me, you pick up fox items every chance you get! I can't go shopping without going oooh and awwww, to every single fox thing I see.
Conclusion
I don't think I will ever stop collecting fox stuff. While I love collecting, I also love to give fox gifts to people! This is why this list was created. To spread the love of foxes. Even if it is just a gift to yourself!
If you love foxes too, consider joining our mailing list, for more fox information and gift ideas. Join here.